To love endangered and misunderstood animals is a joyful civic thing to do. The neglect of this civic duty has far-reaching consequences beyond anything we can imagine. It is for this reason that I speak with Sir David Lidington when he said: "Wildlife crime goes well beyond just a threat to endangered species but also has impacts on our society, economy and security. It undermines efforts to uphold the rule of law, acts as an agent for corruption, creates a barrier to development and fuels global instability."
2. Indeed, as Sir Jonathon Porritt's book, Hope in Hell clearly spells out, the 2019-2020 'Black Summers' bush fires, "Destroyed 100,000 square kilometres of forest, causing the death of thirty-three people and more than a billion wild animals, and the economic damage that will run into billions of dollars." But what has all this got to do with loving endangered and misunderstood animals?
3. A great deal – is the answer. Just as that great poem, "For the want of a nail" teaches us, the want of a love for endangered and misunderstood animals may involve horrific consequences. These horrific consequences concern both you and me; our planet, which is our home and the very substance of life. How then are we to appraise these horrific consequences, why should you care and what are the first steps to take towards loving endangered and misunderstood animals?
4. It gives me great pleasure to introduce Ms Maria Diekmann, a scientist and conservationist. Maria was born in 1965 to Major William Carl Buerk, a US Air Force fighter pilot who saw active service in the Vietnam war, which ended on 30 April 1975. Major Buerk was among those listed as missing in action – presumed dead. Maria's mother, Mrs Antoinette Mira Buerk, was subsequently folded into the legendary Earl Warren family, after remarrying Earl Warren Junior. Earl Warren senior, was an American lawyer, politician, and jurist who served as the 14th Chief Justice of the United States from 1953 to 1969. Warren also led the Warren Commission, a presidential commission that investigated the 1963 assassination of President John F Kennedy; he is considered to be one of the most influential supreme court justices and political leaders in the history of the United States. Warren was the only governor of California to be elected for 3 consecutive terms.
5. Maria attended the amazing Carden School in California; whose unique curricula had, in Maria's own words, "a great influence on me." She afterwards went to Principia School in Missouri, before taking up her place at Principal College in Illinois, where she graduated with a degree in sociology. After leaving Principal, Maria, inspired by her legendary step-grandfather, Earl Warren, first tried her hand at politics, working for Democratic Party Senator, Thomas Eagleton, but subsequently removed to South Africa to explore new pastures in 1989. She was fortunate to know a few friends at the University of Wits, where she acclimatized to South Africa's rapidly changing political climate, which saw Nelson Mandela released from prison in 1990. This was the environment in which Maria's life changed fundamentally by falling in love, getting married and settling down to start a family in Namibia in the 1990s. It was in Namibia that she also fell in love, head over heels, for endangered and misunderstood animals.
6. It was this love for endangered and misunderstood animals that led to the formation of the Rare and Endangered Species Trust, REST, in 2000. REST soon acquired a worldwide reputation for Cape Griffon vultures' conservation, but subsequently turned its focus to conserving the pangolin, after Maria devoted more than three months of her life to a pangolin pup, meticulously recording every aspect of the pup's life as it developed. This was the first time such a thing had ever been done in history; the experience completely changed Maria's life. Her dedication to the pangolin is captured in a BBC documentary, "Pangolins: The World's Most Wanted Animal," narrated by Sir David Attenborough.
7. Maria is now busy working towards establishing a primary pangolin conservation centre and a carbon sinking initiative in Emerald Forest Reserve in Nigeria. It is spearheaded by her Nifty Pangolin campaign, a fundraising initiative, with a view of establishing nine pangolin conservation centres around the globe, dedicated "to the protection of the most trafficked animal in the world."
8. As if her hands are not full enough, Maria has just published a book entitled, Pangolins in My Life.
9. In this Episode, we discuss the topic: "How To Love Endangered And Misunderstood Animals."
10. Look up Episode 009 of Conversations with Stephen Kamugasa, and please subscribe to Conversations with Stephen Kamugasa podcast through your favourite podcast app to listen to the latest insights from our guest thought leaders.
11. Featured image by Mr Alexander Strachan.
Recommended Reading:
1. Pangolins in My Life, (Paperback Press, March 11, 2023). By Maria Diekmann.
2. A Life On Our Planet: My Witness Statement and a Vision for the Future, (Ebury Press, 1st Ed. October 1, 2020). By Sir David Attenborough.
3. Imaging Extinction: The Cultural Meaning of Endangered Species, (The University of Chicago Press August 2016). By Ursula K. Heise.
4. Feral: Searches for Enchantment on the Frontiers of Rewilding, (Penguin Books, 2013). By George Monbiot.
5. Flight Ways: Life and Loss at the Edge of Extinction, (Columbia University Press, 2014). By Thom van Dooren
6. American Wolf: A True Story of Survival and Obsession in the West, (Penguin Random House, 2017). By Nate Blakeslee.
A Dedication:
This podcast episode is dedicated to Mrs Antoinette Mira Warren, a much-loved mother to Maria Diekmann.  Antoinette was a remarkable woman; she divided her time between raising Maria as a single parent and working as a legal secretary to a number of leading lawyers in the USA. Upon her retirement, Antoinette removed to Namibia to be close to her daughter and grandchildren, where she pursued her passion for gardening, pottery and books. Mrs Antoinette Mira Warren died on 11 June 2022, at the age of 82 years old.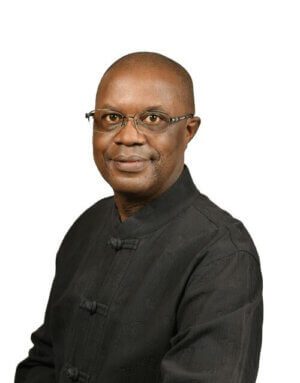 Stephen Kamugasa, FRSA, is a non-practising barrister, an author, a consultant, a teacher, a blogger, a writer, and a podcast host. His aim in life is to inspire our own and the next generation to turn challenges into coherent and meaningful solutions, focusing on humanity, leadership, and citizenship.