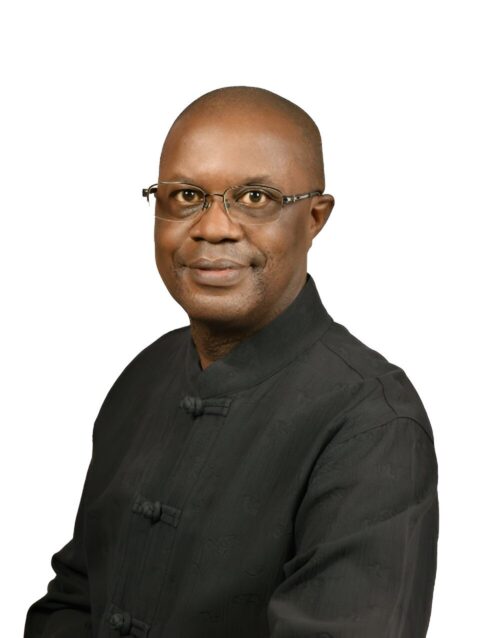 ---
Stephen Kamugasa's story started in 1966 in Kampala, Uganda, where he was born to a disciplinarian businessman father and the daughter of a canon in the Church of Uganda. He went to St. Savio Junior School, Kisubi, and Kings College, Budo, but afterwards moved to Cliff College, Derbyshire, England, in 1987. However, due to humbling circumstances, he became a refugee in England and was subsequently naturalized as a British citizen. Working under the greatest disadvantages and discouragements imaginable, Stephen initiated a number of projects and eventually brought some of them to fruition. He worked patiently for success, and it came, but very slowly. It is therefore something of a miracle that, as a penniless refugee, he should successfully overcome many seemingly insurmountable difficulties to complete his tertiary education. He is now a graduate of Buckingham Law School, BPP Law School, and BPP Business School; a married man; a barrister of the Inner Temple; a consultant; a fellow of the RSA; an author; a teacher; a blogger; and a pod-caster. His interests include cooking, arts and crafts, music, and literature. Stephen relocated to Taiwan in 2013, where both he and his wife are now based. In addition to being an occasional opinion columnist for 'Edge,' the official journal of the Institute of Leadership and Management in the UK, he also writes for The New Climate on Medium.
But it would be remiss of him if he failed to acknowledge the help he received from others as being of great significance. It was significant. As a distressed refugee, Providence broke his pride and silenced his boasting. It is owing to sparing mercy and pure grace that bitterness did not get the better of him. He was hurried, but he never despaired of life. He is therefore beholden to many who did much to help him. And, having received much, he is himself as a debtor to all – a debtor not only to the respectable but also to the disreputable. Now that Stephen has more or less completed his training in the school of life, it is fitting that he should remember all the ways both of God's providence and grace, by which he was hitherto led through the discipline of the wilderness of Mara, bitterness; that he may the better serve the Lord with all humility, endeavour to set up his Ebenezer – a charitable foundation in England, to work with others for the benefit of our own and the next generation. The work of setting up the Ebenezer will necessarily be slow, as the fruit best worth waiting for ripens the slowest. It will require time, energy, money, and God.
How to commence work on the Ebenezer was always going to be a challenge. But work on Lord Denning's new biography manuscript, which he completed in 2016, may, in the circumstances, be considered an important milestone, a basket of first fruits, and a good start; and although this beginning is but as the day of small things, yet it is an earnest of great things. It is the first step. The first step may, however, take a while longer to allow him to work on another biography of a leading figure whose life exhibited attributes commensurate to the vision set out here. It will run concurrently with the second step, which is the building and strengthening of relationships, clarifying the roadmap, and conducting due diligence reference to the Ebenezer, hence the purpose of The Kamugasa Challenge. The third and final step, if God is pleased, may culminate in the formation of the Ebenezer.
---
A Word Of Encouragement From A Remarkable Man:
"It has always been clear that you, and some other people I know well and may have helped through their difficulties operate at an intellectual level very far above mine. Shared values have taken me a long way.
Therefore I admire your dedication, ideals and clarity of expression. No wonder you attract attention among many 'influencers'. Your style has, to my mind, become exemplary." Mr John Cornwall, Honorary Freeman of Buckingham (UK) – 2022.